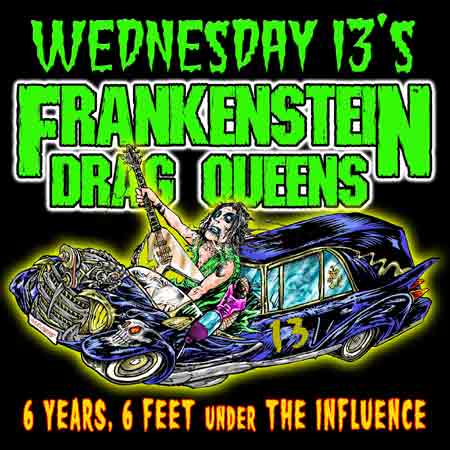 6 Years, 6 Feet Under the Influence is the first compilation album by horror themed punk band Frankenstein Drag Queens From Planet 13. It was released on November 30, 2004 on People Like You records. All songs featured are re-recorded and tweaked from their original versions, with Wednesday 13 himself playing all instruments. This compilation also includes five new tracks and four specially recorded interludes.
Track listing
Edit
"Too Dead to Die" - 2:16
"Evil Is Good" - 3:16
"Rambo" - 2:25
"Good Mourning Dolly" - 0:42
"We Have to Kill You" - 3:27
"Nightbreed" - 4:43
"Transmission DEAD" - 0:36
"Scary Song" - 2:41
"The Rocketship Oddity" - 3:41
"Kung Fu You" - 1:59
"Darkside of the Tomb" - 1:15
"I Wanna Rot" - 2:14
"Chop Off My Hand" - 2:27
"The Wolfman Stole my Baby" - 3:49
"Planet of the Apes" - 3:00
"The Witch is Dead" - 4:08
"Death Theme Thirteen" - 0:32
"Your Mother Sucks Cocks In Hell" - 2:38
Total Album Length: 45:47
Album credits
Edit
Wednesday 13: Vocals, Guitar, Bass, Keyboards
Scabs: Drums
Piano: Jamie Hoover
Produced by
Edit
Wednesday 13 

Co-produced and engineered by Jamie Hoover
Ad blocker interference detected!
Wikia is a free-to-use site that makes money from advertising. We have a modified experience for viewers using ad blockers

Wikia is not accessible if you've made further modifications. Remove the custom ad blocker rule(s) and the page will load as expected.