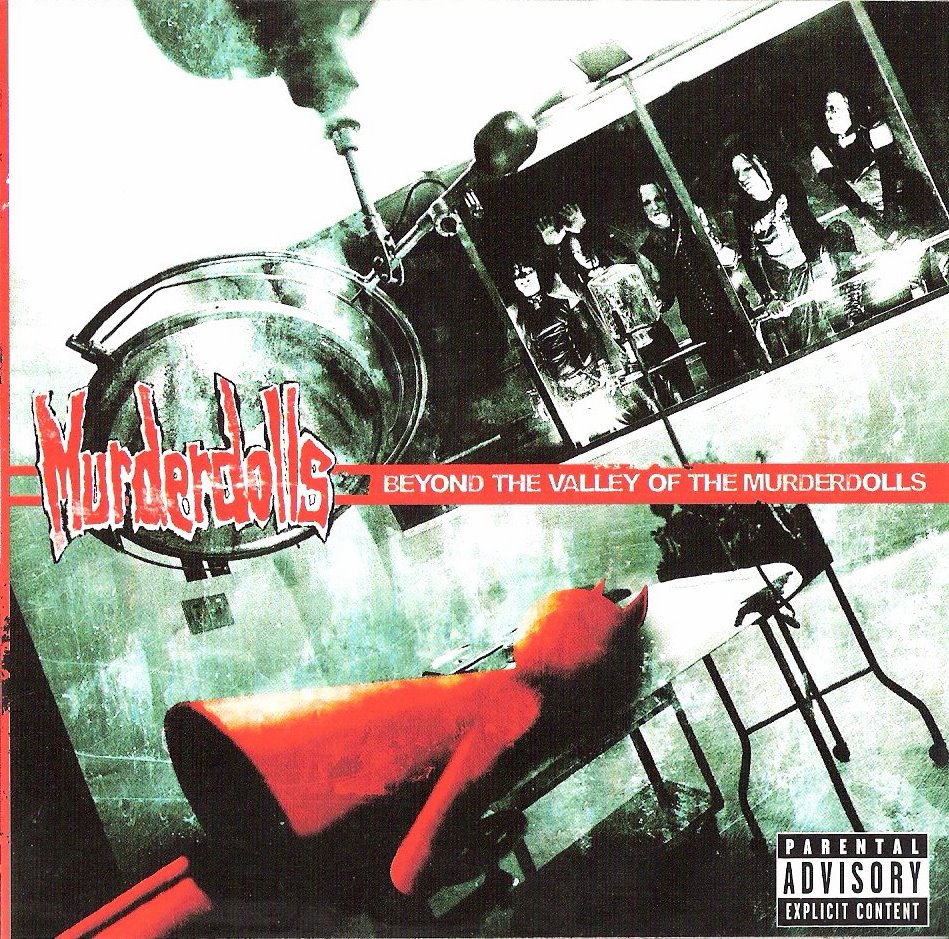 Beyond the Valley of the Murderdolls is the debut album of rock band Murderdolls released in 2002. It was released on Roadrunner Records and reached #40 on the UK Albums Chart.
The original pressing of the album featured 16 tracks, with a later re-release containing additional bonus tracks.
Track listing
Edit
"Slit My Wrist" – 3:50
"Twist My Sister" – 2:06
"Dead in Hollywood" – 2:30
"Love at First Fright" – 3:07
"People Hate Me" – 4:49
"She Was a Teenage Zombie" – 3:02
"Die My Bride" – 3:14
"Graverobbing U.S.A" – 3:21
"197666" – 2:19
"Dawn of the Dead" – 3:43
"Let's Go To War" – 3:23
"Dressed to Depress" – 2:13
"Kill Miss America" – 2:27
"B-Movie Scream Queen" – 3:49
"Motherfucker I Don't Care" – 2:55
Bonus tracks
Edit
On September 23, 2003, Roadrunner Records issued a re-release of the "Beyond the Valley of the Murderdolls" album. It featured six bonus tracks, including a single they had recently recorded, which was a cover of Billy Idol's "White Wedding".
"Crash Crash" – 3:13
"Let's Fuck" – 1:24
"I Take Drugs" – 1:43
"White Wedding" – 3:54
"Welcome to the Strange" – 4:19
"I Love to Say Fuck" – 4:29
"Welcome to the Strange" (Japanese and American Special Edition) - 4:19
Enhanced DVD
Edit
Following the bonus track special edition, Roadrunner Records re-released the album, with an extra DVD feature as well as the bonus tracks. It was put in stores on October 21, 2003, featuring four videos. The cover remained the same as the one which was released a month earlier.
"I Love to Say Fuck" (Live) - DVD
"Dead in Hollywood" - DVD
"Love at First Fright" - DVD
"White Wedding" - DVD
Wednesday 13 – lead vocals
Joey Jordison – backup vocals, guitar, drums, bass
Tripp Eisen – guitar
Previously recorded versions
Edit
In total 12 of the tracks were previously recorded by Wednesday 13's band Frankenstein Drag Queens From Planet 13 and 1 from an earlier band Maniac Spider Trash, some of the lyrics were rearranged as well as song titles for the Murderdolls project (For example "Hooray For Horrorwood" was renamed "Dead In Hollywood"). Wednesday 13 did however write all of these tracks.
Miscellanea
Edit
The album title is a reference to the Russ Meyer film *Beyond the Valley of the Dolls*. The track "Twist My Sister" pays homage to the glam metal band Twisted Sister. Joey Jordison played most of the guitar on the album while Tripp Eisen performed the leads. Jordison also played drums on the album while he and Wednesday shared bass duties. Ben Graves and Eric Griffin feature in the album art but joined the line-up after the album was recorded. Tripp Eisen later left the Murderdolls and was replaced by Acey Slade who was featured in the artwork for the re-released versions. Murderdolls performed two tracks, "197666" and "Dead In Hollywood", on the WB show, Dawson's Creek.
Ad blocker interference detected!
Wikia is a free-to-use site that makes money from advertising. We have a modified experience for viewers using ad blockers

Wikia is not accessible if you've made further modifications. Remove the custom ad blocker rule(s) and the page will load as expected.