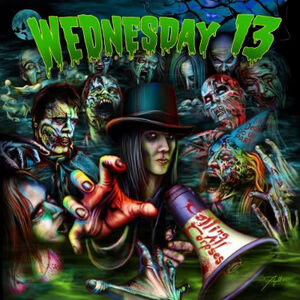 Calling All Corpses is an upcoming studio album by Wednesday 13, it is due for release on October 11th 2011 in Noth America and October 10th Overseas.
On Wednesday July 13th, Wednesday realeased the track listing via Braveworlds.com
The Album artwork was created by D.A Frizell who has worked with Artists such as Avenged Sevenfold and Sevendust.
The CD is currently being mastered by Tom Baker at Precision Mastering, who has worked with Artists such as Marilyn Manson, Nine Inch Nails, Rob Zombie and Ministry.
Track Listing
1. Blood Fades To Black
2. I Wanna Be Cremated
3. Ghoul Of My Dreams
4. One Knife Stand
5. Calling All Corpses
6. Miss Morgue
7. SIlver Bullets
8. Bad At Being Human
9. London After Midnight
10. Candle for the Devil
11. We All Die
12. Something Wicked This Way Comes
13. Blood Fades To Black (Reprise)
Ad blocker interference detected!
Wikia is a free-to-use site that makes money from advertising. We have a modified experience for viewers using ad blockers

Wikia is not accessible if you've made further modifications. Remove the custom ad blocker rule(s) and the page will load as expected.