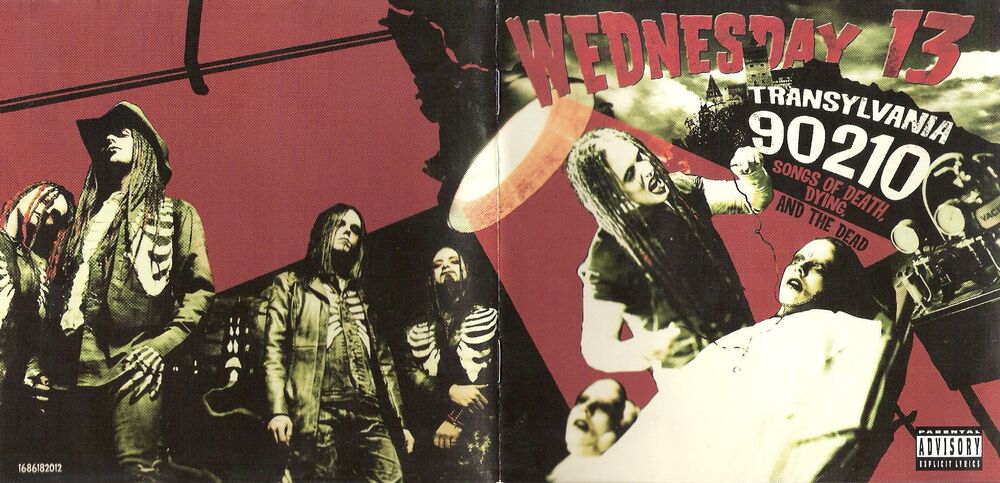 Transylvania 90210: Songs of Death, Dying, and the Dead is the first studio album by American horror punk musician Wednesday 13. The album contains fourteen standard tracks, as well as a bonus track exclusive to Japan, titled "Thank You Satan". The album spawned one single, "I Walked with a Zombie", inspired by the film of the same name.
Track listing
Edit
"Post Mortem Boredom" – 0:57
"Look What the Bats Dragged in" – 2:32
"I Walked with a Zombie" – 3:43
"Bad Things" – 3:37
"House by the Cemetery" – 3:20
"God Is a Lie" – 3:37
"Haunt Me" – 4:35
"Transylvania 90210" – 3:54
"I Want You...Dead" – 4:08
"Buried by Christmas" – 3:08
"Elect Death for President" – 4:22
"Rot for Me" – 4:03
"The Ghost of Vincent Price" – 5:08
"A Bullet Named Christ" – 4:02
Bonus tracks
Edit
"Thank You Satan" (Japan bonus track) – 3:55
Ad blocker interference detected!
Wikia is a free-to-use site that makes money from advertising. We have a modified experience for viewers using ad blockers

Wikia is not accessible if you've made further modifications. Remove the custom ad blocker rule(s) and the page will load as expected.